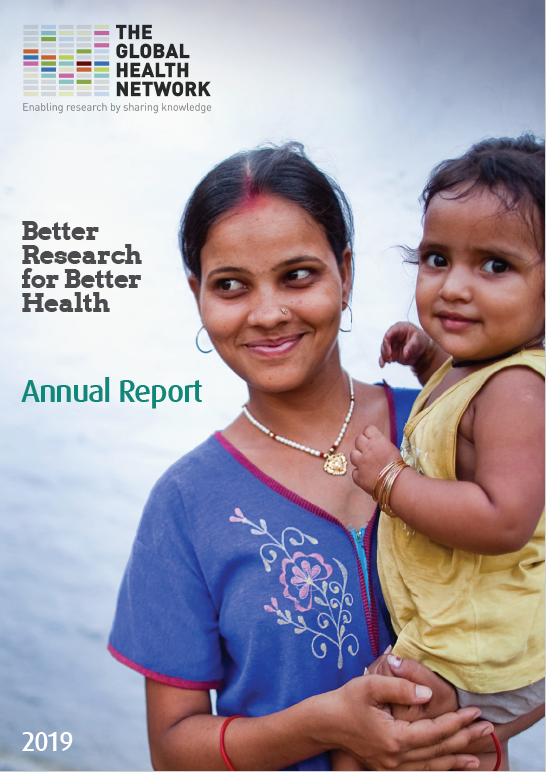 The Global Health Network Annual Report 2019 is Now Available to Read Online
Research is critical to solving the world's biggest health challenges. The Global Health Network facilitates the sharing of knowledge, methods and tools between disease areas, regions and organisations to amplify research outputs. The 2019 annual report provides an insight into how knowledge sharing is facilitated and the extraordinary impact so far.
To read the annual report, click here
New Partnership between Fiocruz and The Global Health Network to Improve Health Research and Capacity Development Globally
Fiocruz is one of the world's leading public health institutions and Brazil's institute for health science and technology. On 31st July 2019, a new strategic partnership between Fiocruz and The Global Health Network was signed. This will amplify the impact of Fiocruz's health research and capacity development initiatives by promoting research capacity building across Portuguese-speaking countries, and enabling research findings from the Zika outbreak to benefit public health worldwide.
Course Now Available in Italian: INTERGROWTH-21st Course on Maternal, Fetal and Newborn Growth Monitoring
The development of this course was motivated by the commitment of the INTERGROWTH-21st Consortium to improving perinatal health globally. The objective of the course is to communicate the methodology of maternal, fetal and newborn growth monitoring and the application of the INTERGROWTH-21st international growth standards to make judgement about appropriateness of growth. This course is also available in English, Spanish and Portuguese.
For more information or to take the course, click here
BMJ Global Health Article: It is not enough that we require data to be shared; we have to make sharing easy, feasible and accessible too!
Published in the latest issue of the BMJ Global Health journal, this article highlights the difficulties researchers face with data sharing and how in an effort to support and facilitate data sharing, the European and Developing Countries Clinical Trials Partnership (EDCTP) is working in collaboration with The Global Health Network to assess whether a cross-cutting knowledge hub around data sharing would help researchers find the optimum repository and to gather their data in a form that is ready for sharing. Read more
Explore the EDCTP Knowledge Hub
New Resources on Human Infection Studies Member Hub
Vaccines prevent diseases and save countless lives, but it usually takes 10 years or more to develop new vaccines. In human infection studies, volunteers are given a sample of the vaccine under development followed by a carefully monitored infection following strict rules, the aim of these studies is to speed up the process of vaccine development which can help fight diseases such as typhoid and malaria. The Human Infection Studies Member Hub now includes documents such as a study protocol and ethics approval.
To see these resources click here
The WorldWide Antimalarial Resistance Network (WWARN) hosted a successful workshop at the Clinical Research Unit of Nanoro, Burkina Faso
The workshop was delivered in partnership with The Global Health Network. The aim of the workshop was two-fold; to train researchers in best practice of designing, conducting, analysing and reporting antimalarial drug clinical trials, and also to build expertise within the region.
The Worldwide Prison Health Research & Engagement Network, WEPHREN, Celebrated its Second Anniversary Last Month with a Live Webinar Broadcast The webinar broadcasted the Alex Gatherer Memorial Lecture live from London, England and from the University of New Mexico in the USA. The theme for the webinar was involving people in prison in the development of prison health services and Professor Karla Thornton and her colleagues presented on the work they have done on identifying people with Hepatitis C. Watch the replay here Are You Interested in Leading a Mixed-Methods Research Project in Global Health? Get in TouchThe Global Health Network is looking for an experienced mixed methods researcher to lead a three-month survey analysis project to help determine core health research training curricula.This project includes looking at survey data as part of a wider knowledge gap analysis that is taking place in Latin America and the Caribbean and may result in a publication. For more information visit: https://rede.tghn.org/articles/consensus-building-underway-researchers-based-latin-america-and-caribbean-help-determine-core-research-training-curricula/ This is a full time role based in Oxford. If you're interested in this opportunity please email: info@theglobalhealthnetwork.org

Calling Nurses in India – Opportunity to Win Funded Attendance to the Healthcare Summit 2019 in BangaloreNurses and student nurses across India are invited to take part in an essay competition with the chance to win fully funded attendance to the Healthcare summit 2019 in Bangalore. This summit takes place from 21 – 22 November and brings together individuals who have an interest in different fields of nursing such as psychiatric, cancer, cardiac, critical care, adult and women's health.For more information and to take part click here
Best wishes,The Global Health Network
The Global Health Network 2019

All feedback and suggestions are welcome, to get in touch please contact: info@theglobalhealthnetwork.org.To unsubscribe click hereOur Privacy Policy has been updated read it here.The Global Health Network, NDMRB , Old Road Campus, Oxford, OX3 7FZ, United Kingdom